Pastry Chef/ TV personality Buddy Valastro kicks-off National Train Day festivities at Penn Station on May 7, 2010 in New York City. (Photo by Mark Von Holden/Getty Images for Amtrak)
MORRISTOWN, N.J. (AP) — The brother-in-law of "Cake Boss" television star Buddy Valastro has been arrested in New Jersey and charged with sexually assaulting a minor.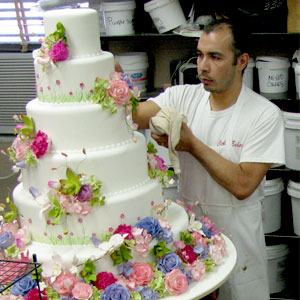 Police say 32-year-old Remigio "Remy" Gonzalez of East Hanover was arrested Aug. 17 and faces multiple sexual assault and child endangerment charges.
A Morris County Prosecutor's Office spokesman says Gonzalez remains at the Morris County Correctional Facility on $300,000 bail. It was not immediately known if Gonzalez has retained a lawyer.
Gonzalez appears as a cake decorator on the popular TLC network reality show, which chronicles a family-run bakery in Hoboken, N.J., that produces elaborate custom-made cakes.
(Copyright 2010 The Associated Press. All Rights Reserved. This material may not be published, broadcast, rewritten or redistributed.)
Comments (10)