John Katehis seen here on his MySpace page at age 16. (credit: CBS 2)
NEW YORK (CBS/AP) — A defense lawyer says a teenager accused of fatally stabbing a New York City radio reporter during a sexual encounter was defending himself.
John Katehis is charged with killing 47-year-old George Weber in the victim's Brooklyn apartment in March 2009.
The defense said at a pretrial hearing Tuesday that Weber had inflicted cuts on Katehis' hands before Weber was killed.
Authorities say Katehis had answered Weber's Craigslist ad offering to pay for sex.
Weber worked 12 years as an on-air reporter at WABC in New York. He also had worked at stations in California, Colorado and Pennsylvania.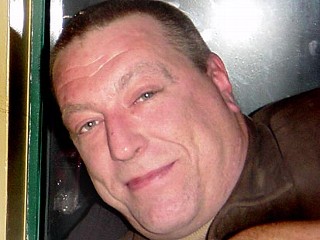 Discussion at the hearing also focused on what evidence may be admitted at the murder trial.
At his hearing last May, Katehis' father sobbed in a Brooklyn courtroom  as he listened to the things his teenage son claimed he did for $60 with Weber, which spiraled out of control into murder.
"One of the names he used to lure this underage boy into his lair was the name 'Smotherboy,'" defense attorney Jeffrey Schwartz said at the time.
"It seems that Mr. Weber had this whole secret life that no one knew about," Schwartz said. "He lured John Katehis into his home. He plied him with alcohol and illegal drugs."
Not even the defense lawyer, though, denied that on March 20, 2009 Weber was killed in his Carroll Gardens apartment; or that Katehis had the knife that killed him; or even the statement, by one of the arresting detectives, that was submitted in court papers.
"Defendant stated killing George was an accident. Defendant went to George's apartment after responding to Craigslist ad for smothering. He was supposed to get $60," the statement said.
Or this, attributed to Katehis himself: "I didn't mean to kill George. It was an accident. He pulled a knife on me, so I stabbed him. He gave me something to drink and some coke. He asked me to do things I wasn't comfortable with."
To which attorney Schwartz added: "[Weber] attempted to get him to do, some sadomasochistic sex to him. Um, the situation got out of control."
As for a slew of MySpace photos of the young Katehis posing with knives, his lawyer said it was just macho teenage posturing. But he said it hinted at the sadomasochism Weber wanted that night.
(TM and © Copyright 2010 CBS Radio Inc. and its relevant subsidiaries. CBS RADIO and EYE Logo TM and Copyright 2010 CBS Broadcasting Inc. Used under license. All Rights Reserved. This material may not be published, broadcast, rewritten, or redistributed. The Associated Press contributed to this report.)